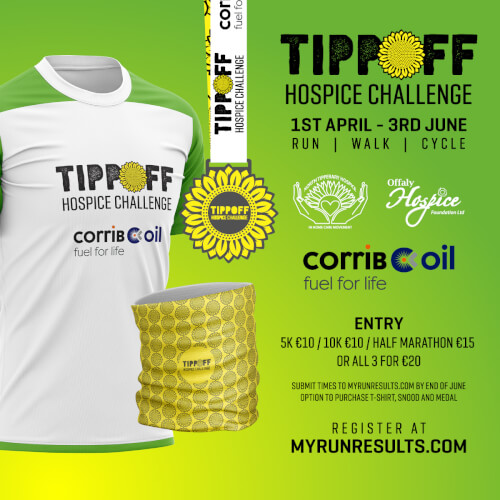 TippOff Hospice Challenge Walk/Run/Cycle
Thursday, 01 April 2021 19:22
Walk, Trail Run, Kids Race , Fun Run, Road Race, Cycle
5 Km, 10 km, Half Marathon
TippOff Hospice Challenge Walk/Run/Cycle
Our fundraising has suffered hugely from the effects of covid over the last 12 months,Tipperary & Offaly hospice have joined forces to bring you the TippOff Hospice challenge.
Open to everyone young or old and people of all abilities, you can Walk / Run or even cycle the distance over a 3 month period.
Your local hospice are still offering full services by appointment, and are still supporting patients and their families in their homes, with night nurse support.
Your support in this fundraising event would be hugely appreciated.
1/2 Marathon - 15euro
10k - 10euro
5k - 10euro
Additional option to purchase event merchandise and / or set up fundraising page.