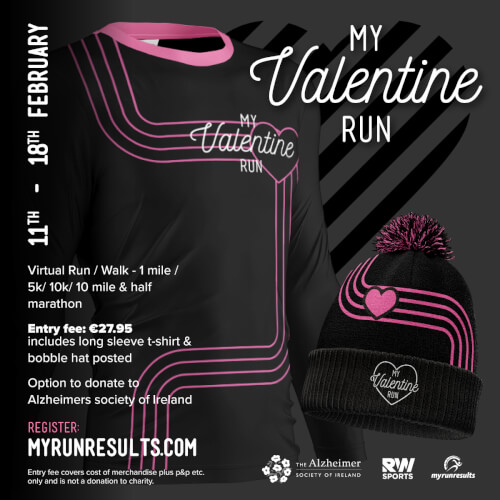 My Valentines Run 2022
Friday, 11 February 2022 00:00
1 Mile, 10 Mile, 5 Km, 10 km
We all love to run so why not celebrate this Valentine's Day with a virtual run.
Our love for running keeps us fit and healthy while also being a great social activity.
You can take the opportunity to run / jog or walk with the one you love and close family members in your favoutite location / route.
ENTRY IS €27.95
INCLUDES LONG SLEEVE SUBLIMATED FRONT T-SHIRT & BOBBLE HAT POSTED
(THESE WILL BE POSTED OUT FROM FEB APPROX 10TH FEB)
Choose from a variety of distances - 1 mile, 5k, 10k, 10 mile and /or Half Marathon.
Add results from 11th to 18th Feb on MyRunResults.com results portal.
There is also an option to donate to our chosen charity The Alzeimher's Society of Ireland