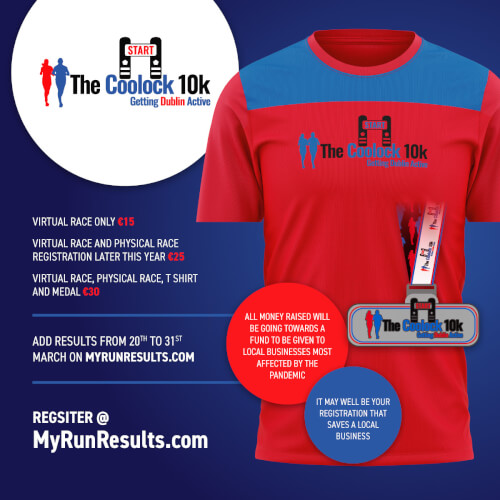 Coolock Virtual 10k 2021
Saturday, 20 March 2021 00:01
With the pandemic showing no signs of letting up as you know we took the decision to have a virtual race this February (20th - 31stt March).
The core purpose of the
Coolock
10k has always been to serve the local community and bring local people together to take part in a fun filled day that will be around for years to come.
Getting families and individuals more active and involved in exercise and community activities.
The corona virus has devastated local businesses and what we have decided to do is to re open the virtual race registration with three pricing options.
All money raised will be going towards a fund to be given to local businesses most affected by the pandemic. It may well be your registration that saves a local business.
The tiers are as follows:
Virtual race only €15
Virtual race and physical race registration later this year €25
Virtual race, physical race, t shirt and medal €30.
Just follow the appropriate links and sign up now.
Lets show that we can get behind the community and support our own