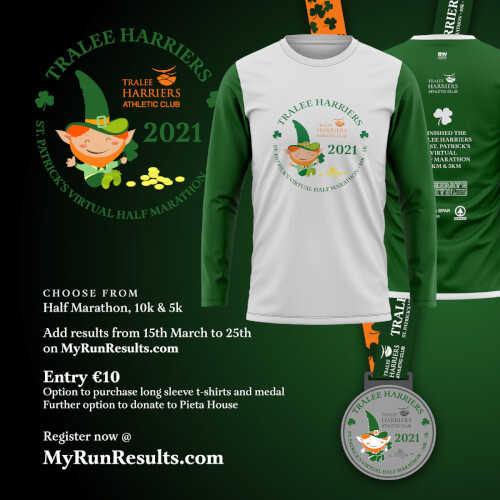 Tralee Harriers St Patricks Virtual 1/2 Marathon, 10k & 5k 2021
Sunday, 14 March 2021 23:01
5 Km, 10 km, Half Marathon
Tralee Harriers AC Virtual St. Patrick's Run 2021 ½ Marathon, 10k 5k
Due to the current restrictions Tralee Harriers Ac have take the decision to hold a virtual event this St Patrick's weekend
The club's annual fundraiser will be a virtual run for the 2021 year and hopefully will be back on the roads of Tralee and it's surrounds in 2022.
The virtual run is a fundraiser for the Club and all proceeds go towards the finishing of the running track and equipment for the young athletes in the club
This year's event can be held in a location of your choosing with the results being posted to the myrunresults.com portal between the 15th and 25th of March (remember to keep within the travel restrictions at that time.)
The cost is €10.00 for the event no matter the distance, you can crawl, walk, jog, run the distance you choose.
There is an option to purchase a Long sleeve T-Shirt &/or Medal inc postage
With the restrictions, lockdowns, and upheaval to everyone's lives, we are conscious of people's mental health and their wellbeing as well as those who are missing the actual start line and the hard slog of a run that this year we have decide to support Pieta House and have placed a donate button for you all to subscribe and offer some little token to help the worthy charity help those that are struggling.
We hope that you will join us and complete your run